What to Know When Visiting Japan During Cherry Blossom Season
Posted on 03/22/2017
While the cherry blossom season is an extremely popular time to visit Japan, there are some things to be aware of when it comes to all of the hype, notes Tim Pile in an article for South China Morning Post.
THE GOOD
It's that time of year again in Japan. Blooming updates punctu­ate news bulletins, screensavers take on pastel pink tones and food products are repackaged in garish cherry-blossom hues.
The centuries-old tradition of hanami is almost upon us although, to be strictly accurate, the cherry-blossom-viewing season began a couple of months ago. Ueno Park, in Tokyo, might be the epicentre for media interest and petal-based parties, but trees in the southern prefecture of Okinawa flowered and fell back in mid-January.
Smartphone apps provide details of when the candyfloss-coloured sakura are expected to burst into flower and regular announcements are broadcast by the Japanese Meteorological Agency, which tracks the "cherry blossom front" as it arcs northwards across the country.
Close attention is paid to the forecasts; from those early Okinawa blossoms through to mid-May, when trees in the highlands of Hokkaido reach full bloom. Families and friends gather in parks and gardens, having arranged for a group member to arrive beforehand, bag a spot and hold onto it until reinforcements turn up laden with food and drink, folding tables and mats. Some party-goers bring mobile karaoke machines, others smuggle alcohol in, despite park rules forbidding it. Blankets and warm clothes come in handy after dark, when the temperatures drop, but it's worth staying on to see the trees illuminated with lanterns.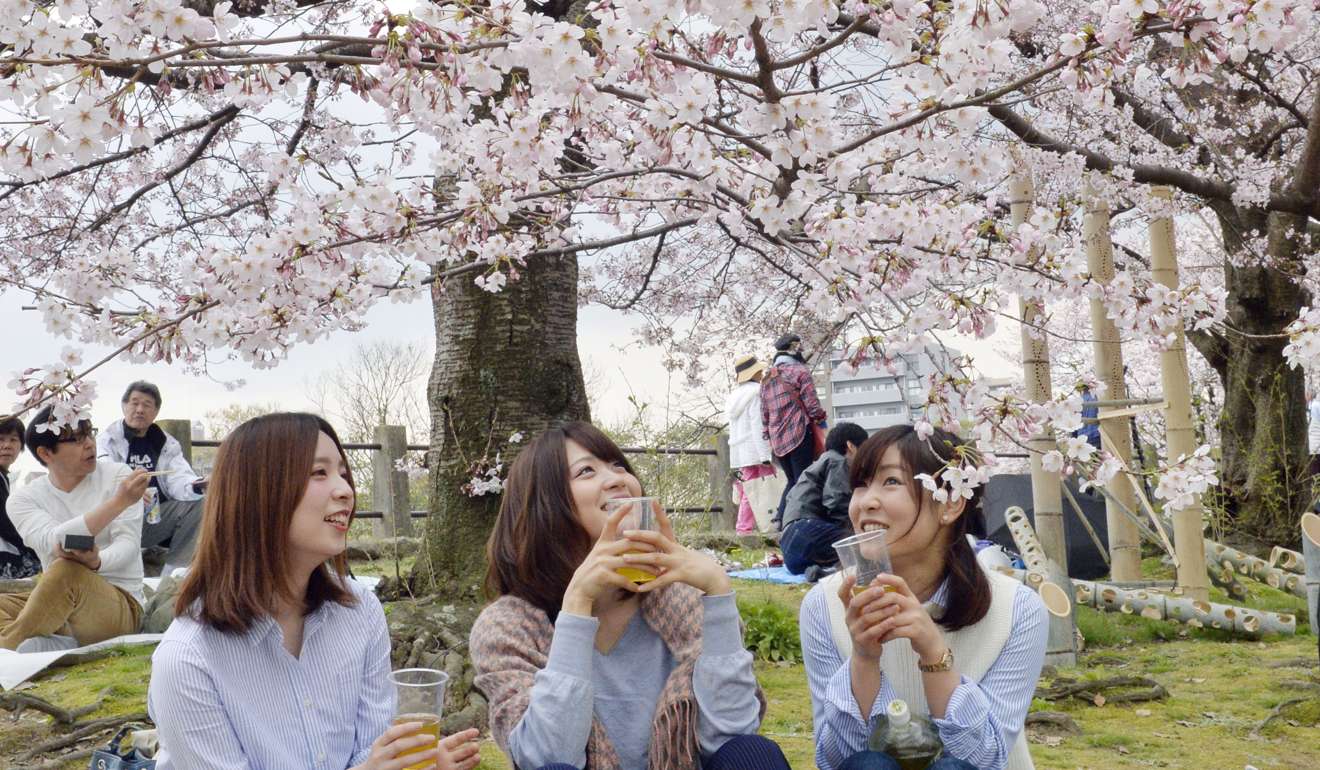 Picnicking in a park in Fukuoka during cherry-blossom season. Picture: Kyodo
For those unable to stake out a picnic space, food stalls serve up yakitori (grilled chicken on skewers), dumplings and fried noodles. In 2014, McDonald's got in on the act with a cherry-blossom burger and, last month, Starbucks introduced sakura raspberry milk. Not to be outdone, Coca Cola has released a cherry and sakura flavoured milk tea and Pepsi ... well, you get the idea.
According to Japanese Buddhist folklore, the frail petals symbolise the ephemeral nature of life and have been the subject of numerous poems and songs. Some believe the blooms represent the reincarnated souls of warriors slain in battle and the cherry-blossom motif frequently features in traditional irezumi tattoos. There are strict codes of hanami behaviour – if a foreign tourist picks a sakura petal, the exceedingly polite Japanese may show disapproval but are unlikely to say anything. Break off a branch, however, and that warrior instinct comes to the fore. Expect to be confronted and reprimanded.
Nothing lasts forever and for the Japanese, the only thing more enchanting than wandering among trees in full bloom is hanafubuki, or "flower snow storm", when falling petals become a blizzard of pink snowflakes. Catch one and good fortune is assured, so the saying goes.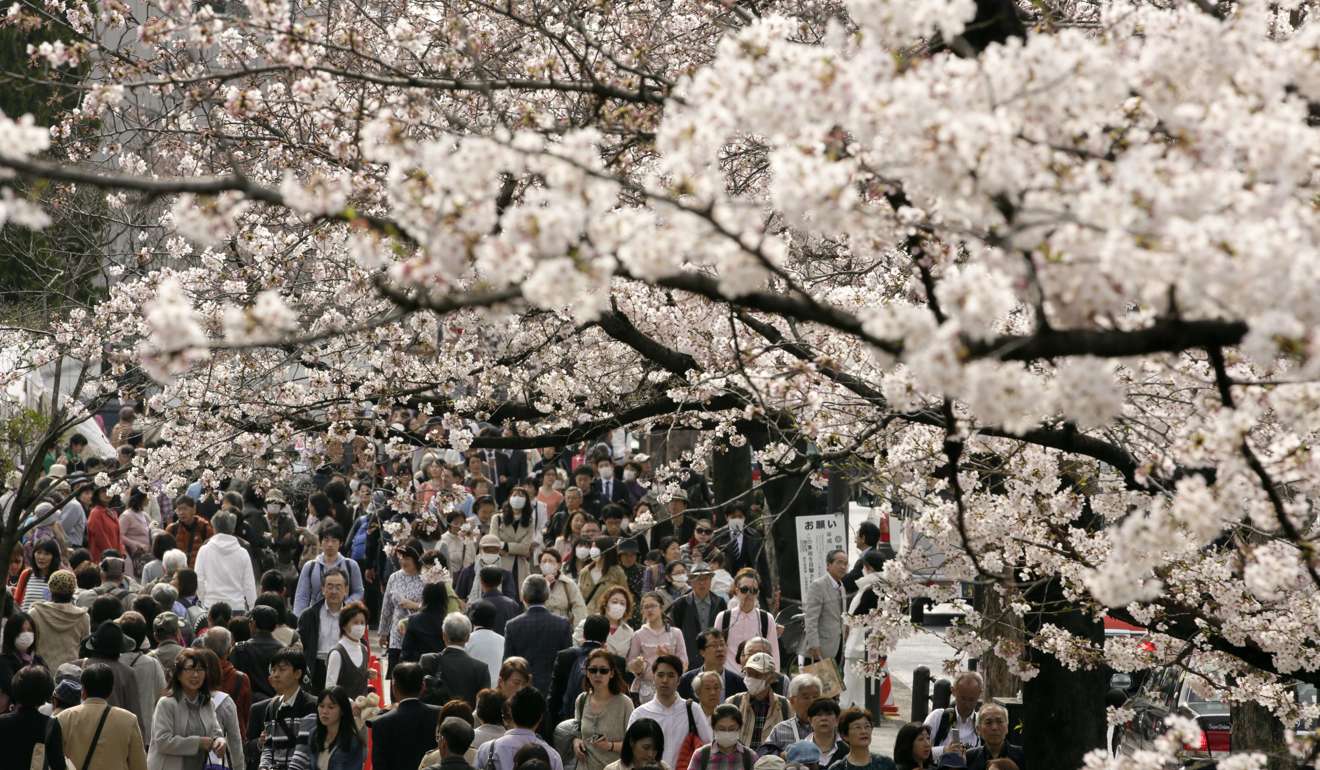 Cherry-blossom season is a busy time in Tokyo. Picture: EPA
THE BAD
Timing a trip to coincide with hanafubuki is no easy task, especially for foreign visitors who have to book flights and hotels long in advance. It's tricky enough predicting when the blossoms will peak, let alone working out when they'll fall. To be sure of experiencing the full sakura cycle, you would need at least a week but, be warned, an abundance of demand and a limited supply means hotel rooms in popular cities such as Tokyo or Kyoto don't come cheap.
Not sure why everyone says that you need to go to Ueno Park. When we went it was dirty and actually filled with a lot of homeless people. We left quite quickly as we felt a little uneasy
A reviewer on TripAdvisor
There are more than 1,000 cherry blos­som trees in Ueno Park and you could save money by sleeping underneath them with some of the locals, although this TripAdvisor reviewer doesn't recommend it: "Not sure why everyone says that you need to go to Ueno Park. When we went it was dirty and actually filled with a lot of homeless people. We left quite quickly as we felt a little uneasy."
While there are worse allergens, cherry blossom causes hay fever symptoms, which affect up to one in four of Japan's 127 million people. Face masks and goggles fly off shelves and pharmacists dispense remedies for hanami-goers suffering from itchy eyes and streaming noses.
Humans aren't the only ones feeling off colour, though. Planted in the post-war years, many of the trees are nearing the end of their lifespan. Disease caused by old age, pollution and pests such as the red-necked longhorn beetle mean many of Tokyo's 44,000 trees are being chopped down and replaced.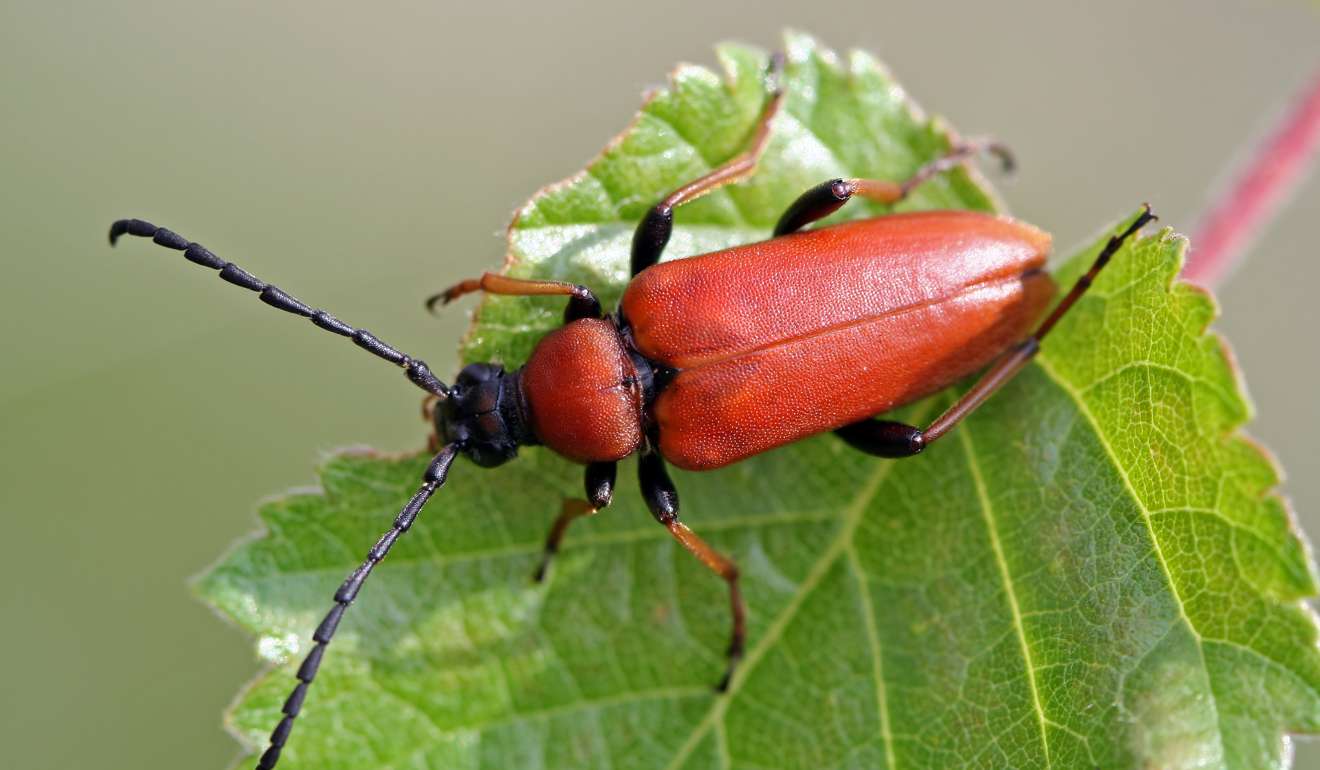 A red-necked longhorn beetle.
The Japanese affinity for the ailing national symbols has led to a number of protests. In one standoff, a group of campaigners intervened to stop workers chopping down four gnarled trees in the capital. Ongoing planting initiatives do little to appease traditionalists who argue that replacing mature trees with saplings creates an urban eyesore.
Not everyone appreciates the cherry trees. The Japanese proverb "hana yori dango" roughly translates as "I'll take dumplings over flowers" and refers to sightseers who come to enjoy the beauty of blooms but soon wander off in search of something to eat or, put another way, opt for the practical over the aesthetic. There's no shortage of snacks to choose from but while the brightly coloured sakura-branded foodstuffs might catch the eye, they usually come with excessive souvenir packaging that soon ends up in landfills. One downside of the aesthetic over the practical, you could say.
During the second world war, delicate petals once again symbolised the warrior values of living passionately and dying young in battle. Citizens were encouraged to believe that the souls of dead airmen were reincarnated as sakura. Kamikaze pilots painted cherry blossom on the sides of their planes and took blooms with them on suicide missions aboard purpose-built attack aircraft known as ohka, which means – you've guessed it – cherry blossom.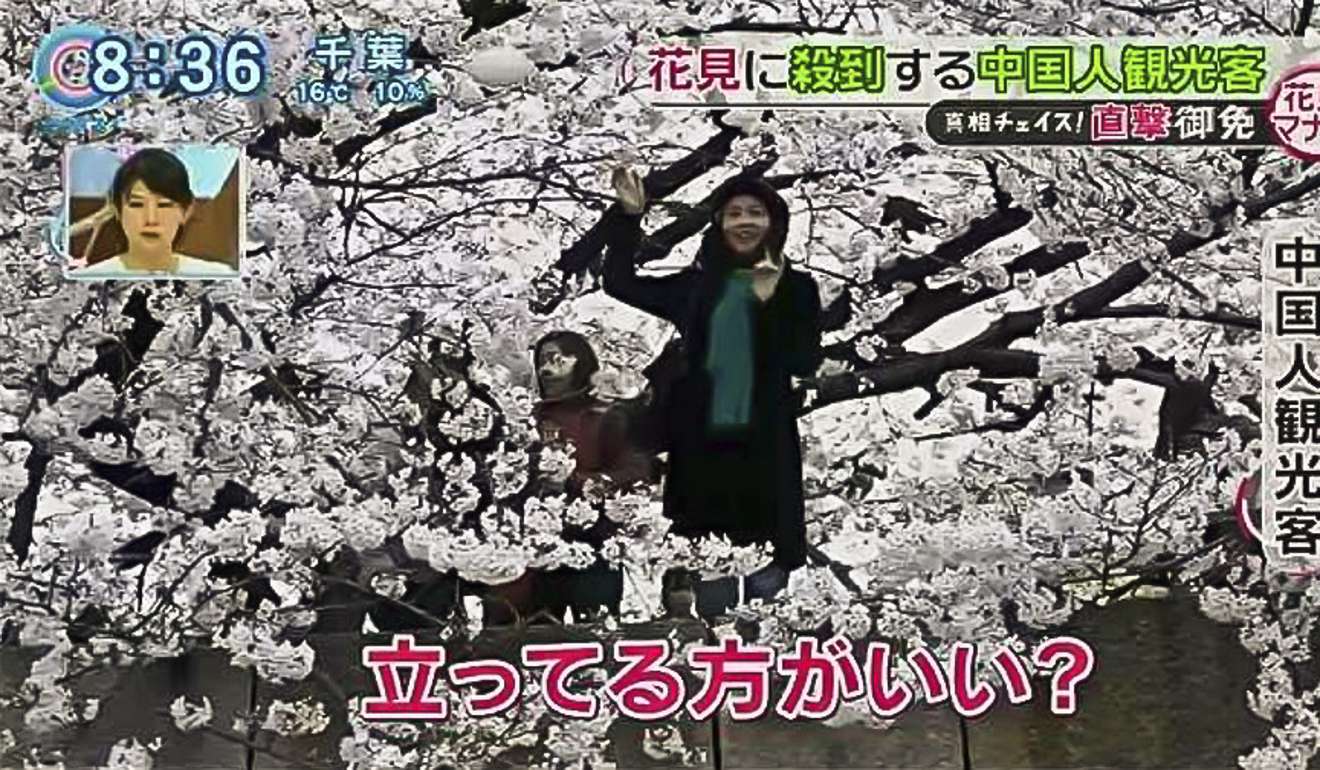 A screen grab shows Chinese tourists in Japan.
THE UGLY
While the majority of visitors observe strict hanami etiquette, not everyone gets the memo. In 2016, disrespectful behaviour by a handful of Chinese tourists led to Japanese media calls for Chinese-only sightseeing zones at popular hanami sites. Despite the presence of multilingual signs, acts of vandalism included climbing, shaking and kicking fragile and elderly trees, as well as breaking off flowers for hair decorations. The Japanese aren't alone in being horrified at the antics, however. Embarrassed Chinese joined the chorus online, expressing their shame and disgust while ridiculing their fellow countrymen for ruining China's reputation overseas.